What We Do
Identifying Needs and Developing Solutions
ICC works with the people of Ironbound to identify needs and develop community-based solutions for them. ICC strives to empower people to better control and develop their own lives, families, and community.
In its work, ICC impacts the lives of Ironbound residents both at the individual and community levels. Whether it's preparing children for Kindergarten and life-long success with high quality early childhood education, or negotiating land use with industry and government, ICC's priority is to support the people of the Ironbound with the services, resources, and opportunities they need, want and deserve. With four program locations throughout the Ironbound, families have access to a full range of ICC services and initiatives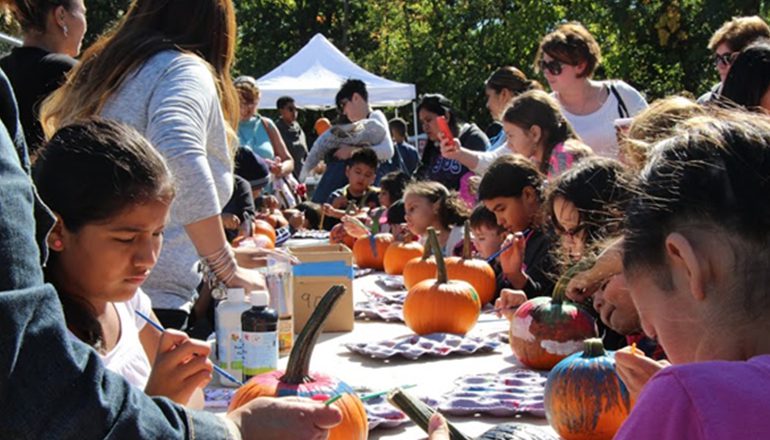 In pursuing our mission on a daily as well as strategic basis, Ironbound Community Corporation aims to make a difference in people's lives, in the life of the community, in the larger community of the City of Newark, and in public policy matters that affect the people of Ironbound and Newark. We achieve this through daily programming and services; ongoing community engagement; leadership and participation in city- and state-wide coalitions; and organizing and public policy advocacy through agency and coalition initiatives and government advisory groups.
RECENT ACCOMPLISHMENTS:
Produced nearly 100 units of affordable housing, including for very-low-income families.
Expanded our state-of-the-art 35,000 square foot Early Childhood Birth-5 Center that is home to a nationally accredited and acclaimed program that closes the achievement and developmental gaps of impoverished children and prepares them for Kindergarten.
Achieved a decades-old community and ICC dream by leading the development of Newark's first Riverfront Park, 15 acres on the Ironbound waterfront.
Provide, each summer, all-day enrichment for more than 1,000 school-age children through ICC programs in partnership with Newark Public Schools.
Drafted and successfully worked with colleagues and the City of Newark Administration and Council for the passage of an Environmental Justice Ordinance and an Affordable Housing (Inclusionary Zoning) Ordinance. The ordinances support a healthy community and equitable development.
Worked successfully with colleagues and the City to develop and marshal the passage of a "Right to Counsel" Ordinance that provides legal representation for low income residents in housing eviction court.
Incubated the State's first workers' cooperative, 15 industrious Latinas who formed a green cleaning business called Green Magic for businesses and homes (need this service?)
Collaborated with a developer to bring Aerofarms, the country's largest indoor vertical farm, into our community that also resulted in the placement of 60 community residents in new jobs.
Provide, in partnership with Table to Table, fresh produce to 800 families weekly every March-October.
Placed 90 residents in new jobs in 2018 averaging more than $16 an hour.
Provided free tax assistance annually to 1,200 households which received nearly $3 million in refunds, including from the Earned Income Tax Credit.
Continue to grow ICC's urban farm, Down Bottom Farms, in size, output, and community participation, as well as play a role in ICC's focus on developing healthy food initiatives.
NATIONAL ACCREDITATION
National Association for the Education of Young Children (NAEYC) accreditation awarded to Early Learning Center Preschool, Head Start, and Early Head Start Programs – 2018 (Preschool accredited since 1988.)
ORGANIZATION AND STAFF AWARDS AND RECOGNITION:
Wynona M. Lipman Community Service Award, 2010
Paul Robeson Award, GANE (Garden State Alliance for a New Economy), 2009
Wynona M. Lipman Community Service Award, 2010
United Way William Ashby Community Service Award, 2012
Metropolitan Waterfront Alliance Hero of the Harbor, 2014
NJ Future Smart Growth Award, 2014
US EPA Environmental Quality Award, 2014
Housing & Community Development Network of NJ (inaugural) Advocacy & Organizing Award 2016
City Council President Mildred Crump Man of Vision Award 2009
US EPA Citizen Excellence in Community Involvement Award 2008
Congress of Portuguese American Educators Community Award 2007
Center for Health, Environment, & Justice Grass Roots Hall of Fame 1996
LISC Neighborhood Impact Award, 2004
NJ Work Environment Council Impact Award, 2004
St. Benedict's Prep Celebrating Commitment for Community Leadership and Service 1998