Community Planning and Development
Envisioning Its Future
Beyond organizing itself, a community can best take control of its own destiny by envisioning its future rather than leaving that up to others.  ICC supports the community in this through ongoing Community Planning Initiatives.
ICC believes in a community planning and development process that is fully inclusive, transparent, accountable, and produces tangible results. We are committed to bringing local leaders and community members to the table as key development decisions about the future of our community are made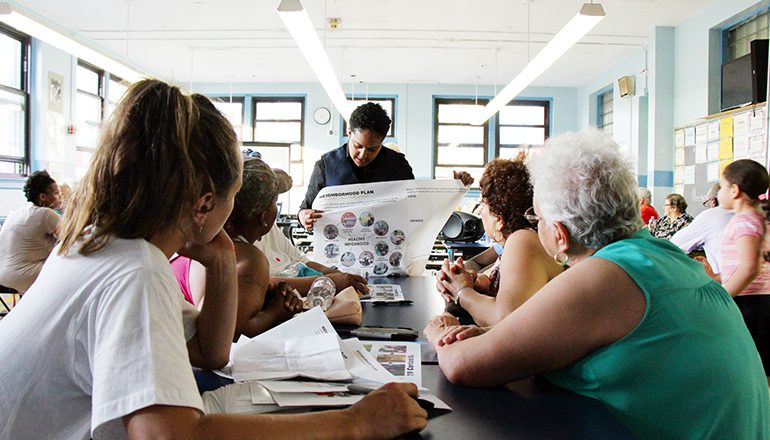 The most recent accomplishment resulting from ICC's long-time planning and advocacy efforts is the 16 acre Riverfront Park, Newark's first waterfront park constructed in partnership with the City and County.  In addition, ICC has developed 89 affordable housing units since 2010, also a product of partnerships.  And, maybe most exciting, ICC, along with our partners Community Assets Preservation Corporation and Essex County Community Land Trust, is poised to place the City's first housing properties into a COMMUNITY LAND TRUST, ensuring long term affordability!
These and other accomplishments are all pursuant to years of community-driven plans that involved hundreds of residents and other stakeholders. In 2001, ICC spearheaded a Community Master Plan that laid out a vision for the Ironbound, influenced development, and has been largely integrated into the City's Master Plan. ICC's Master Plan led to the development of an Open Space & Recreation Plan, including a Waterfront Park Plan, which laid the groundwork for the partnership ICC developed with the County and City for the development for Riverfront Park. Today, we continue to work with city planning efforts to ensure that community visions and needs are taken into account as part of citywide strategies.
The East Ironbound Improvement Plan focuses on a historically undeserved community within the eastern part of the Ironbound – one with high poverty rates, environmental threats and a mix of residential and industrial development. With the support of a grant from the Wells Fargo Regional Foundation and others, ICC is working to transform this neighborhood into a thriving community with access to housing, education, employment and recreation.
A key gateway to the East Ferry community is the former Ballantine Brewery, a vast industrial complex with tremendous potential for smart development. ICC is working with local business leaders and the City of Newark to forge a shared vision that can include a mix of residential, community and business uses.
All of this planning is facilitated by close ties to our social services, community organizing and environmental justice work.  Some of ICC's work includes (links):
OFFICE LOCATION:   317 Elm Street Newark, NJ 07105
For more information contact us at 973.817.7013.