Pre-school Head Start
A safe, secure, nurturing, and meaningful learning environment for children
In 1998, in a case known as the Abbott decision, the New Jersey Supreme Court ruled that children in NJ's 30 poorest school districts must have access to high quality preschool programs aimed at closing the achievement gap of disadvantaged children. Past studies have found that children entering the ICC's Preschool Program are typically 18-24 months behind in language and literacy development. ICC's Preschool-Head Start Program at our Early Learning Center addresses these findings, preparing children for Kindergarten and life-long happiness, success, and love of learning.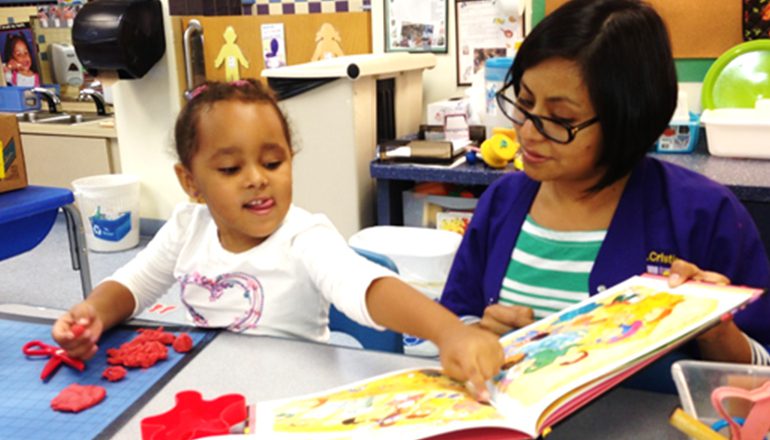 The Ironbound Preschool-Head Start Program operates in in a state-of –the-art building located at One New York Ave., Newark, NJ 07105, a safe, secure, nurturing, and meaningful learning environment for children. The program empowers families and staff, at school and at home, to help children grow and learn. It ensures the healthy growth and development of each child, intellectually, socially, emotionally and physically. Children are prepared to be competent and successful learners who will contribute to our diverse community and become positive, active members of society. Teachers are BA, P-3 State Certified. The Preschool Program has been accredited by the National Association for the Education of Young Children (NAEYC) since 1988. NAEYC administers the largest and most widely recognized accreditation system for all types of early childhood programs and child care centers. NAEYC is the nation's largest organization of early childhood educators. The Criteria can be found on the NAEYC's website
Hours of Operation: 8:30 to 3:00pm (free). Before and After-Care and Summer Program available – see below.
Program:
Educational Curriculum Activities (Creative Curriculum)
Qualified, Nurturing Teachers – BA, P-3 State Certified
Healthy & Nutritious Meals and Snacks
Health and Developmental Screenings
Parent Engagement, Services, & Activities
Program Eligibility
Eligibility is different for the two program components.
Eligibility for Preschool State-funded component (September-June):
Age – 3 to 5. Must be 3 or 4 before October 1st of the current year. Birth Certificate or Passport required.
Must live in city of Newark- 3 proofs of residence required.
Eligibility for Head Start-funded component (September-July):
Age – 3 to 5. Must be 3 or 4 before October 1st of the current year. Birth Certificate or Passport required.
Family income must be below 100% of federal poverty guidelines. Current proof of income for 4-weeks required.
Must live in Ironbound within 07105 & 07114 zip codes. 3 proofs of residence required.
Application/Solicitud
Applications are available on site at The ELC on Tuesdays.
Solicitudes están disponibles cada martes en El ELC.
ELC application/Formulario de solicitud por ELC
Email the completed and signed application to/Enviar cumplimentado y firmado el documento de solicitud a: ApplyELC@ironboundcc.org
Wraparound Program:
This is for Before & After-School Care for both program components and the  Summer Program for children enrolled in State-funded Preschool.
Eligibility:

Wrap Around is a fee-based service.
Subsidies are available through Program for Parents. More information can be found at Programs for Parents – https://www.programsforparents.org/and through ICC's Family Advocates.