A brief history of ironbound community corporation
Setting a course for the future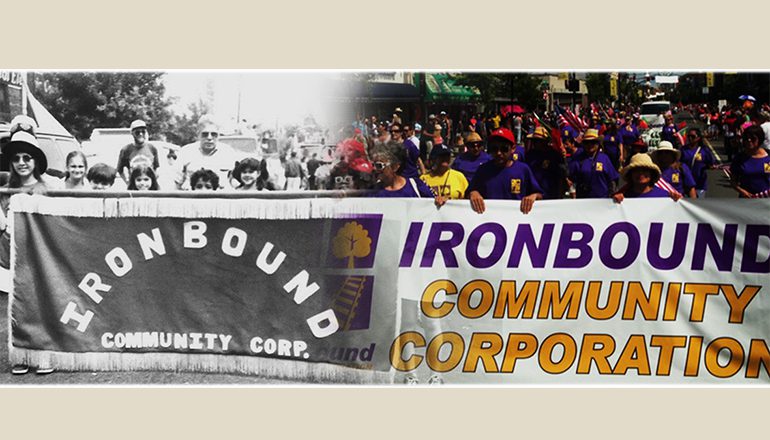 It was back in 1969, just two years after the Newark Rebellion, that people across the city were organizing their communities to set a course for the future. It was no different in Ironbound, where determined parents and activists came together in pursuit of a vision of a better world for themselves and their children.   They formed the Ironbound Community Corporation (ICC) and in their very first year bucked the system twice, successfully pressuring a recalcitrant state government to fund a new child care program and then supporting Ken Gibson for Mayor.  In the course of the next 50 years, succeeding generations have built upon this legacy of persistent community building by investing in services for children and families and organizing for justice.
The organization's first program, the Ironbound Children's Center, served a handful of children and families.  Founders and staff made every effort to operate democratically, with decision-making as inclusive and diffused as possible.  Today, ICC serves thousands annually with a full range of comprehensive services and organizing initiatives and operates out of five Centers.  Yet, despite its growth, the organization continues to make every effort to honor its history as a grass roots organization driven by community participation, needs, and dreams.
Indeed, it is the needs and dreams of participants that have led to ICC's growth and successes.  Whether it is new programs for children and families or organizing campaigns to keep firehouses open, ICC has boldly and tirelessly worked to build a stronger, healthier, and just community for all in which to grow, play and work.  ICC continues to hold forth the necessary link between high quality programs and aggressive organizing and demonstrates the need for both to achieve true, holistic community building.
The Ironbound Community School opened in 1973, ICC's first major expansion.  Importantly, it embodied the spirit and practices established at the Children's Center.  As the early classes of students and families "graduated" out of the Children's Center, they longed for a continuation of the care, quality, and empowerment they experienced at the Children's Center.  The response was the Community School, a K-8 alternative school utilizing a progressive Open Classroom curriculum with extensive parent and staff control.
ICC's growth has continued through the decades, sustaining the expectations for high quality programs, staff and community empowerment, and forwarding the principles of justice and equality for all.  The Children's Center, for example, has evolved into a national model Birth-5 Early Learning Center in a state-of-the-art facility.  And while the Center closes achievement gaps and prepares children for Kindergarten, it also empowers parents to govern the program through its Policy Council.  Further, the organization, building on its progressive foundation, also understands that children growing up in an unhealthy, polluted community will more readily contract and have their asthma triggered, leading to school absences that limit their potential and well-being.  So, while maintaining a nationally accredited Early Learning Center that is visited by delegations from across the country, parents at the Center as well as residents in general are organized, for example, to protest against the local incinerator that burns a million tons of garbage yearly, polluting the lungs of all within range.
Many other programs and services have been developed through the years to support children and families, from after-school and summer programs to community gardens, from parenting programs to domestic violence counseling, from adult education to senior citizen services, from healthy mothers and babies services to workforce development, from the development of affordable homes to the creation of community murals, and more.  In the course of these programs, people are not only empowered to realize their aspirations, they are brought together to break down isolation, encourage participation, learn about community issues, develop cohesion and leadership – in short, to build community.
Likewise, just as in years past when ICC participants advocated for toxic clean-ups and for a new municipal indoor swimming pool, campaigns always shared with the community through ICC's free tri-lingual newspaper Ironbound Voices, community campaigns continue.  Through successes and failures, ICC and the people of Ironbound have been relentless in both defending and advocating for their community: from railing against the development of more incinerators to defending and preserving Essex County's Riverbank Park; from leading the development of Riverfront Park along the Passaic River to working with Terrell Homes tenants to stop the demolition of their homes; from advocating for new schools to getting affordable housing and environmental justice ordinances passed; and more.
And, just as in the past when ICC participants built and participated in city-wide coalitions such as Newark Coalition for Neighborhoods and the Newark Coalition for Low Income Housing, ICC continues to stretch "across the tracks" in building a city-wide community.  From a Land for Learning campaign to Newark Communities for Accountable Police, from the Newark Community Development Network to the Newark Early Childhood Coalition, from the Greater Newark HUD Tenants Coalition to Newark DIG, ICC plays leadership roles in developing solidarity and collaborations across the city's artificial boundaries.
As a neighborhood that has always been a home for immigrants, Ironbound has never been a stagnant community and ICC has always adapted to changing needs.  Today, in the face of rising housing costs and the threat of displacement as well as the hostile national environment for newly arrived immigrants, the community faces new challenges.  Along with residents, ICC has risen to support the most vulnerable among us with housing justice campaigns and immigrant justice advocacy and services.
ICC is able to meet these challenges and sustain itself as an organization vital to Newark through the support of its funders and many coalition partners, locally and nationally, and far too many to name here.   To all, ICC is grateful.
Lastly, as one may notice, ICC has successfully and uniquely combined direct services and organizing and advocacy toward uplifting people and building community in the broadest sense possible.  Services are the heart of the organization and organizing is its soul, always keeping justice and equity front and center.  Together, they are the lifeblood, what ICC has been and will continue to be.
On to the next 50 years!