Ironbound Building Height Ordinance Stirs Up Gentrification Concerns
January 7, 2019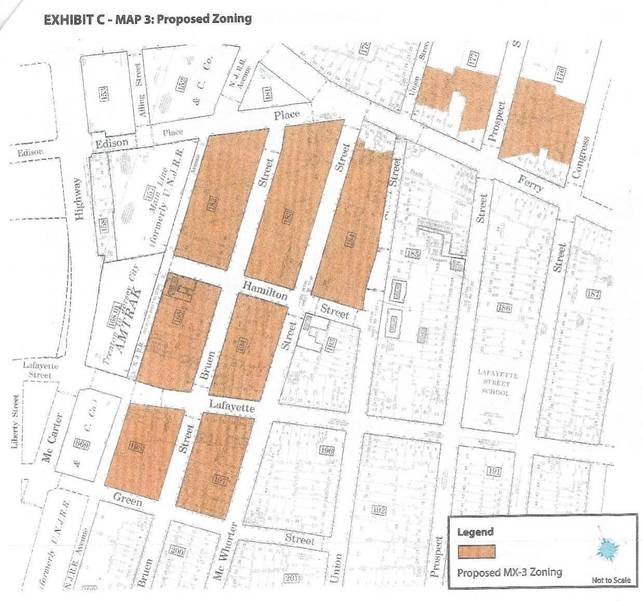 By REBECCA PANICO
January 7, 2019 at 5:31 PM
NEWARK, NJ –  A final vote draws nearer for a zoning ordinance that would allow for taller buildings in the Ironbound, but some community groups have raised a hot-button concern about the measure, saying it will cause gentrification in the neighborhood.
The Ironbound Community Corporation (ICC) and PLANewark say residents in the low-lying Portuguese neighborhood with several surface parking lots could be pushed out should the creation of a new MX-3 zone be approved on Wednesday. The Ironbound Business Improvement District and the city administration say there are other measures in place that will prevent gentrification and the area needs to be redeveloped.
The latest iteration of the proposed MX-3 ordinance would allow for buildings in an area near Penn Station to increase in height from eight to 12 stories.
MX-3 has been a thorn in the side of the city administration since it was first introduced in 2017, leading to a lawsuit filed by PLANewark and others that eventually led to the measure's reversal. The judge's ruling to strike down the measure put a 12-story residential development at 28-50 McWhorter St. in jeopardy since it was approved under the old MX-3 ordinance.
Groups like the ICC, which have been strong partners with the city on measures like a right-to-counsel program for low-income residents facing eviction, are not standing with the city on MX-3. ICC Director Joseph Della Fave says taller, mixed-use residential buildings will lead to more market-rate units that will spark higher rents in the neighborhood and eventually displace residents.
"The City under Mayor [Ras] Baraka has done a great job of promoting and supporting equitable revitalization, and ICC has been both appreciative of this and proud to have worked with the Mayor and his team on these initiatives," Fave said in a statement. "We intend to continue this work and collaboration.
"However, this ordinance does not meet the goals of ICC nor do we believe that it supports the Mayor's laudable goal of 'Equitable Development: No Gentrification,'" Fave's statement continued, taking a jab at a sign on a lectern that Baraka spoke at to announce his well-publicized plans to prevent gentrification.
PLANewark, a planning advocacy group, has continuously been concerned with how the city informed the community about the proposed changes. The group is now concerned that residents who live in the proposed MX-3 zone may not even benefit from the city's inclusionary zoning requirements, which mandates that new residential development with more than 30 units set aside 20 percent of apartments for low-incoming housing.
"It'll definitely increase rents especially because the affordable units – they're mandated by the inclusionary zoning ordinance – but don't have to be built on site or in the area," said PLANewark spokesman James Powell. "They can be built somewhere far away … or they could just pay into [a] fund."
Powell and Fave say MX-3 could set a precedent for other Newark neighborhoods to become gentrified. But not every community group says the measure is unsavory.
Ironbound Business Improvement District Executive Director Seth Grossman said that while the discussion about gentrification was a good one to have, the area proposed for MX-3 is "extraordinarily underutilized" since it is filled with several surface parking lots, yet is near Newark Penn Station.
"Rather than just cars, we're going to have real human beings there who have access to the rest of the city as well as mass transit rather than a whole bunch of cars that come in and leave at night time," Grossman said. "It's really that simple. It's humanizing the area."
He later added: "This is not an invasion. This is a very small part of the Ironbound."
The Ironbound is in the East Ward, geographically the largest ward in the city. Grossman said there are about 60,000 people who live in the East Ward, and MX-3 would only impact a fraction of those people. The fears about gentrification are "overstated," Grossman added.
Although the ICC pointed to undisclosed research that shows building more market-rate units in an area will cause gentrification, Deputy Mayor for Economic Growth, Transportation and Infrastructure John Palmieri said there is no evidence to support that.
"There is no evidence that high rise construction causes displacement, and certainly no proof that raising the height of buildings from 8 stories to 12 stories triggers gentrification," Palmieri said in a statement.
"Tall public housing buildings in Newark have not gentrified their surrounding neighborhoods. And you can't displace residents from a zone where nobody presently resides. We have significant measures in place to ensure that residents are able to afford to remain in Newark including stronger rent controls, inclusionary zoning and right to counsel to prevent evictions, to name just a few."
The agenda for the city council meeting on Jan. 9 at 12:30 p.m. has not been posted online yet. However, it was the city clerk said Dec. 11 that it would be deferred until Jan. 9.
Comments are closed.